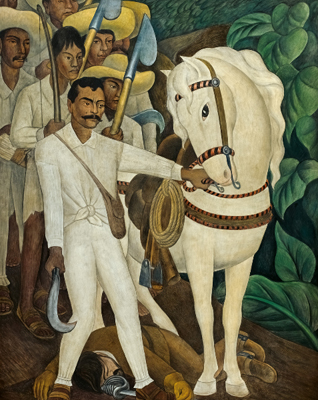 Agrarian Leader Zapata (1931)
The Museum of Modern Art revisits its own 1931 single-artist retrospective with Diego Rivera: Murals for the Museum of Modern Art. The original show opened with five frescos that Diego executed on site specifically for the museum. Of these five initial frescos, four, such as Agrarian Leader Zapata, were based on small sections of frescos in Mexico that cemented Rivera's international reputation as a renowned muralist. The fifth fresco
, The Uprising, aesthetically bears resemblance to the group, but is not based on any part of Rivera's previous murals. After the 1931 show opened, Rivera continued to develop three additional frescos, all original and based on New York City's architecture and economic issues of class division and industrialization.
All of these frescos were executed on portable walls in an attempt to solve the problem of showing frescos to an audience wider than those who could see them on the buildings or structures upon which they were painted.
Americans, most of whom would not otherwise have seen Diego's frescos, could get a glimpse of what his work looked like. Unfortunately, a small section of a mural is not the same as the entire thing. Rivera failed to convey his fresco's beauty and meaning in these fractional recreations. Then, as now, his immense talent and ability were not perceived by those who based their assessments on these works and nothing more.
Balcony of Cortez Palace in Cuernavaca, Mexico
It is disappointing that curator Leah Dickerman chose to repeat the flaws of the 1931 show by excluding any meaningful information about the larger murals that Indian Warrior, Sugar Cane, Agrarian Leader Zappata and Liberation of the Peon were based on. It could have been especially valuable to include, among all the other information on the walls, small pictures showing the detailed murals that each of those came from. Within that context, the aesthetic value and technical innovation of the portable Rivera panels would finally have become apparent.
The strength of this show is in its didactic approach to Rivera's techniques. MOMA takes good advantage of the materials available to them from recent conservation work on the series, such as x-rays of the wall supporting the Agrarian Leader Zappata fresco. The inclusion of information on fresco techniques, such as giornata, and two of Rivera's large cartoons help connect the technical details to the frescos on display. Dickerman even includes a list of the pigments Rivera used (though neglects to elaborate on binders, which given the other technical details included feels like an oversight).

Rivera's mural at The National Palace in Mexico City
Unfortunately, the rest of the show is full of even more missed opportunities and distractions. An example of the latter is the sketches from Rivera's trip to Russia. Though Rivera met Alfred Barr while on this trip, there is no clear reason why the curator chose to include the sketches from Diego's trip to Russia, other than to fill space on the wall. The sketches and information shown about the Rockefeller mural is an example of the former, an incredible opportunity not taken by the curator. The way this part of the exhibit is presented, Diego is portrayed as cluelessly spiteful of his American patron or petty in his oblique political statements. In reality Diego had a convoluted relationship with America- this played out dramatically around the Rockefeller mural project. He was rarely anti-America, but he was always anti-imperialism. Nor were his political interests a surprise to the Rockefellers or anyone at MOMA. He was simply such a famous, popular and important artist at the time that he was given commissions at MOMA and Rockefeller Center in spite of his well-known radical political positions.
Rivera's unique blend of traditional European iconography with less familiar Mesoamerican iconography and stylistic references is charged and designed to signify his work's broader meaning. The biggest loss from MOMA's decontextualization of Rivera and the fresco's in this show is that it dilutes meaning to such an extent that viewers are bored instead of challenged.