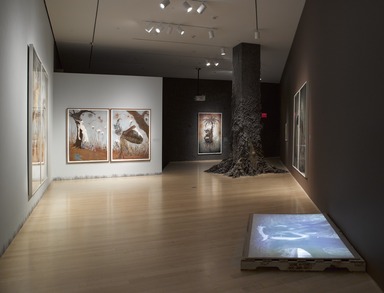 Echoes of Kara Walker's African silhouettes, fused with collaged, sexualized imagery from glossy magazines, transform into sumptuous, mixed media collages of powerful female figures in magical settings in

Wangechi Mutu's work. Although most works in this exhibition are collages for which Mutu is known, "A Fantastic Journey" also includes three video works and several installations that appear throughout the space of the show.
As part of the exhibition-wide installation, Mutu decorated several corners, a door space and

a column

in a heavy, grey wool fabric held down by packing tape that forms organic, root-like patterns with embedded red bras and panties intermittently trapped in it. Within the Brooklyn Museum's third floor, Wangechi Mutu's exhibition lies in an angled L shape around triangular Judy Chicago's "Dinner Party" room, which Mutu's wool fabric installation, through its strange disbursement tries to keep consistent in its look. The shorter part of the L ends in a boxed off area for collaboration Mutu undertook with Santigold
- an animation titled
The End of Eating Everything
that stars a spore- spewing creature with the head of a female model and a fantastical body that resembles a compilation of images from Mutu's collages. Within the same portion of the show, a second video work, black and white performance documentation,
Eat Cake
, stars Mutu herself as a wild woman with unkempt hair and overgrown nails dressed in beautiful dress, eating a large chocolate cake with her hands in the woods that looks more like a mound of dirt than a dessert. Meanwhile, Mutu's innovative collages on Mylar that contain much of symbolism of her African ancestry compete for attention within the same space.
In the space of the longer part of the L, collages such as
Misguided Little Unforgivable Hierarchies
take over the area and tell a fuller story of the artist's political message of
corruption in he native country
through, provocative surfaces, symbols of both collaged images and body language and composition. In this work, confident female figures bent over backwards are stacked on top of each other to show the crooked political attitude toward women and people of Kenya. The surface is beautifully captivating with a jumble of collaged pornographic and machine imagery and fluid, watercolor effects of paint on the

impermeable surface of

Mylar, captivated in carefully structured silhouettes with barely any background. The underlying theme of Kenyan suppression reveals in works such as this giving strength and leverage to the rest of the show.